BABYLON HEALTH RISK ASSESSMENT & PLANNING
The aim of Babylon's health risk assessment is to identify health hazards, evaluate risks to health, and determine appropriate mitigation, control, and recovery measures.
We will conduct a health risk assessment to review and check if there are significant changes, even as they might be required by local legislation.
The BHRA process is summarized in the following diagram.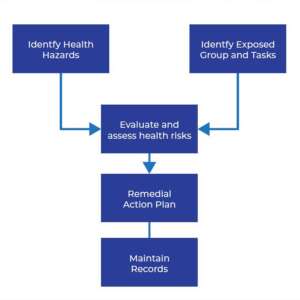 OCCUPATIONAL HYGIENE AND CONTROL OF WORKPLACE EXPOSURES
The benefits of effective health management include:
– Health hazard identification
– Risk evaluation related to hazardous exposure
– Monitoring of active hazards
– Control plan development
– Employee training and control plan implementation
– Evaluating whether controls have been effective